Over at LA Eastside there's been a long discussion on 90s culture in Los Angeles. Commenter Metro Vaquero linked to the awesome video above of a parking lot turned dance floor in the Valley. Quebradita was crazy popular in Los Angeles during the early 90s. It was the first time in my life where listening to your parent's music was acceptable and dressing like a Mexican was something to be proud of. The tejanas and botas are still in fashion today. And I still dream of one day dancing Quebradita…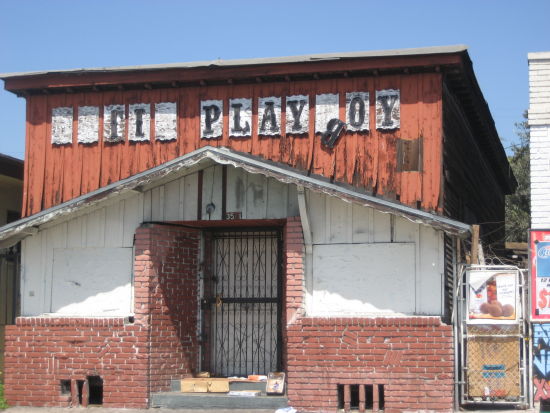 More than a year later and still the same old letters holding on. Soon after I posted my initial photo here, the folks at Los Anjealous attempted to rally their readers to take over the bar but it seems no one took up the challenge. Perhaps too many folks think like Curbed readers and assume any neighborhood with lots of Mexicanos is too "ghetto" for them.
It can be argued that St Patrick's Day is like a local holiday in my neighborhood, despite the fact there is no sizable Irish community in this area. Here in Lincoln Heights, it's common to see people wearing shamrock paraphernalia all year round. As was recently pointed out to me, stores in Lincoln Heights will stock green colored clothing more frequently as it tends to sell more quickly than other colors. Shamrocks magically grace the walls after long weekend nights, spreading the luck of the Irish throughout our little hood.
(more…)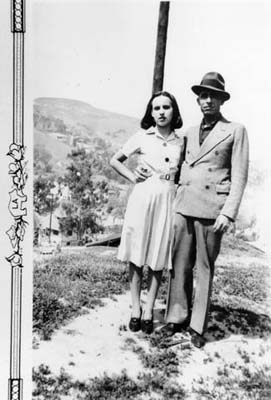 Jessie and Atanasio Garcia, somewhere in Los Angeles, circa 1942

I've encountered a few mysteries among the many family photos my maternal grandmother has given me to keep. For instance, I'm curious about these souvenir Los Angeles snapshots. What area is this? My grandmother refuses to answer because she hates this photo and the last time I showed it to her, she insisted I tear it up. That's her in the photo with our family patriarch, my grandfather Atanasio. They had recently married.
If anyone can identify the area, I would be most appreciative.
OK, I know Halloween is gone and passed but if they can start Christmas early, I can make Halloween go longer! Here's a photo of one of our Halloween yard scenes from a few years ago.
In the next few days, I'll post more thoughts on my trip to Mexico along with photos and videos.
« Previous Page