It can be argued that St Patrick's Day is like a local holiday in my neighborhood, despite the fact there is no sizable Irish community in this area. Here in Lincoln Heights, it's common to see people wearing shamrock paraphernalia all year round. As was recently pointed out to me, stores in Lincoln Heights will stock green colored clothing more frequently as it tends to sell more quickly than other colors. Shamrocks magically grace the walls after long weekend nights, spreading the luck of the Irish throughout our little hood.

One year my previous neighbors, who were as chuntaro as you can get, had a huge St Patrick's day party with green streamers, green balloons, and leprechauns. I couldn't figure out why these kids of Mexican heritage would celebrate St Patrick's when they rarely celebrated any other holidays. They didn't even put that much effort into their own birthday parties. Then it dawned on me, the name of their gang, which was taken from a small street that no longer exists*, is the name of an Irish symbol. I imagine these celebrations, which show no hint of irony or recognition of the absurd cross cultural hybridism, will most likely take place again this year.
San Patricios
There are many cultural connections between the Irish and Mexicans than just the random name of an extinct road in an old Los Angeles Mexican-American neighborhood. Back when I used to do an underground radio show, we did a piece on the cultural connections between Mexican and Irish and more specifically, the San Patricio Battalion, a group of Irish soldiers who deserted the US army for Mexico during the the US-Mexican War. On the other side of the Rio Grande, the Irish soldiers found prettier women, better food, livelier living and sympathetic Catholic brothers. Hey, sounds like Lincoln Heights! There's even a movie and documentary about these smart turncoats. To add to this historical tribute, the Eastside band Ollin just released an album dedicated to the San Patricios.
So though St. Patty's day might seem initially out of place here on the Eastside, there's many reasons why Mexicans/Latinos and other Eastsiders would choose to recognize the date. Just take your pick.
Music to celebrate St. Patrick's Day
To add to the cross cultural mix, here's the Mexican garage band Los Rockin' Rebeldes singing the Irish-American standard, Danny Boy:
Danny Boy-Los Rockin' Rebeldes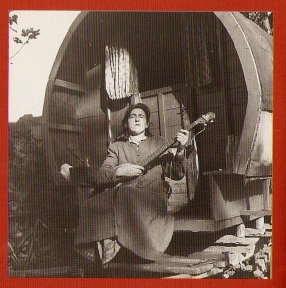 Traveller Margaret Barry with her banjo
Next, one of my favorite Irish folk tunes by Margaret Barry. A song about crooked cops, prejudice and poetic justice, quite appropriate for Mexican Saint Patrick's Day!
Moses Ritoolarilay by Margaret Barry
More on Margaret Barry from the album Traditional Songs of Ireland, Saydisc Records, England, 1995.
Margaret is in full voice now and this unusual Street Ballad was one of her special favourites. She liked the Jew for getting the meddlesome policeman into trouble. She'd always save it for the moment when she saw a local peeler, a man of the law, coming down the street to move her on.
lyrics:
O the bobby have gone like a hen on a cleave
A vision came on with a bee on his sleeve
Promotion he whispered I'll try for today
Now come with me Moses Ritooral-li-ay

O the bobby marched on he was lord of the town
He suddenly stopped with a snort & frown
Promotion he whispered I'll try for today
Now come with me Moses Ritooral-li-ay

Come tell me your name says the limb of the law
To the the little fat man white as death on the straw
What's that sir? My name sir?
Was dear on the day
And its Moses Ritooral-li-ooral-li-ay

O the trial it came on and lasted a week
One Judge says 'Twas German,
another 'twas Greek
Though be Ireland says Chedra be on
the Crimay
And they'll seize on this Moses Ritooral-li-ay

O he turned to the prisoner as stiff as a crutch
Are you Irish or English or German or Dutch?
I'm a Jew, sir, I'm a Jew, sir
that came over to stay
And my name it is Moses Ritooral-li-ay

There's a sorrowful scavenger
sweeps on the street
He once was a peeler the pride of his beat
He moans all the night and he groans all the day
Singing: Moses Ritooral-li-ay
*Added 3/17/2012:
The street still does exist, excuse my inaccurate information.

View Larger Map