Spandau Ballet-The Freeze
I come from a family of vinyl junkies, musicians and DJs. On my dad's side of the family, I'm the only one who hasn't made money from some kind of music related venture. I did try for awhile to involve myself in the professional Flamenco performance scene but it was shark tank I was not willing to swim in. So yeah, I continue to be an amateur.
These past few months, I've been culling my sizable vinyl collection, getting it ready for an upcoming vinyl swap/sale I'm organizing. I've come across a number of albums I've borrowed and secretly nabbed from my father's collection. He is a prolific collector, at one time his vinyl collection was more than 5,000 albums and his CD collection is probably close.
As a DJ in the late 70s/early 80s he'd spend the weekends visiting the record shops spread out across Los Angeles with my little brother and I in tow. We were allowed to pick out a set number of records; he'd say to us: "You can pick out this many used records" and with his fingers designate a stack about 3 inches tall. Because I always wanted expensive import vinyl (The Smiths, Depeche Mode etc.), I'd only be allowed to take one or two pieces of vinyl compared to my brother's armful.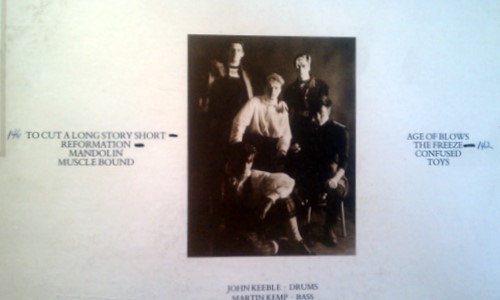 As I got older and my musical tastes expanded, I ended up borrowing a good chunk of my dad's new wave, reggae, Brazilian samba and flamenco albums. It's always a small delight when I come across the markings he's left on the album covers such as the ones on this Spandau Ballet album. My dad would listen to each song and mark those he thought would be good for DJing. He'd make notes of the BPM so that in the midst of the mix, he'd easily know which song would match the other already playing. He'd also leave more detailed notes especially on the salsa or cumbia albums that would say "good for dancing" or "fast."
Despite my father's earnest efforts to teach me the family business of mobile DJing, his attempts at passing on his record-spinning, MC-ing legacy was lost on me. Shyness and insecurities plagued me throughout most of my youth, limiting me in my opportunities and explorations. As The Smiths would say: "Shyness is nice. And shyness can stop you, from doing all the things in life you'd like to."
Nonetheless, I would accompany my dad and my brother to many of his gigs carrying the smaller pieces of gear. I'd then try to stay out of the way, when the set-up began and the dizzying amount of cables begin to wind their way through the various pieces of audio equipment. I was so amazed that they could remember how everything went. Then I would watch as the folks would come alive with certain music my dad played and how he knew how to play just the right song to get different crowds dancing. I often wondered if the folks who hired him for their birthday parties, weddings, quinceñeras, bat mitzvahs and baptisms looked askance at presence of my brother and I. I figure if they did say something, he would say we were helpers. Little did I know at the time, he was teaching us valuable skills.
Often times he'd set up a vinyl mix for me, I'll I'd have to do was slide the fader over but I was much too shy to even do this. He tried to push me and I resisted. I regret not trying. Glad shyness is something you can outgrow. Our family love for music and vinyl still continues and while I may not have it made it a profession like my brother and dad, I can still share my musical experiences on this little blog. Thanks, Dad!