Dia de Muertos altar in Queretaro, Mexico.

I think I've lost some of my holiday spirit. At one point in my life, I lived for the end of October: halloween parties, dia de los muertos, ofrendas, costumes. Friends and I would gather and spend months making decorations for our celebrations out of paper mache, papel picado and designing graphics for our party invitations.  Lack of time and money combined with the commercialism of dia de los muertos have all contributed to my lack of enthusiasm these days.
The DIY element of dia de los muertos had always appealed to me. Now you can go into any old boutique, Target for that matter and come across some Mexican-looking calavera. No, thanks. These pictures I took last year in Mexico are examples of what can be done with just simple everyday objects.
Halloween and Dia de los Muertos related posts from the past.
Halloween en Mexico
Dia de los Muertos: Altares
El Pan de Muerto

Masks from Queretaro dia de muertos festival stall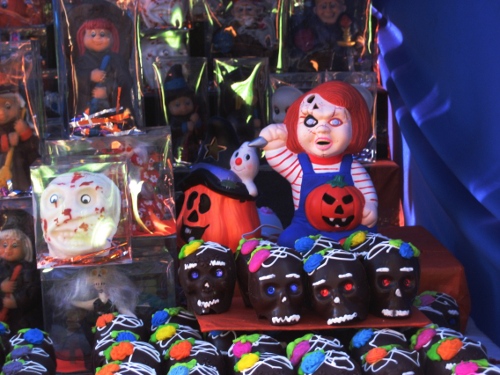 Halloween's gruesome influence on dia de muertos stalls-El Choki!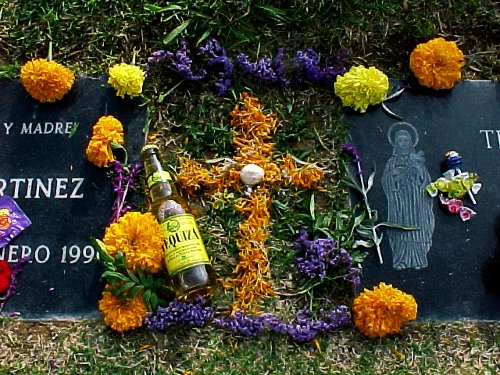 My grandmother and great-grandmother's headstone, Montebello.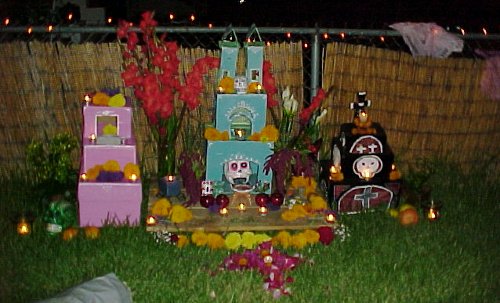 Altars made with cardboard and paper mache
Have fun tonight, you ghouls!