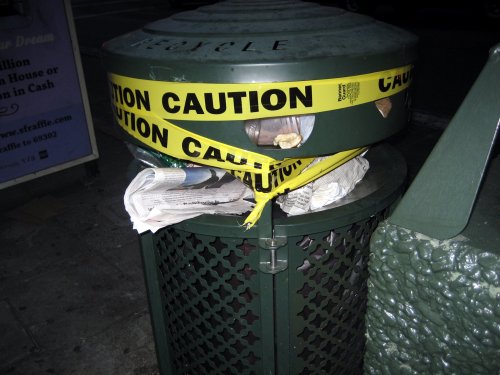 San Francisco trash can. Caution, items may escape.
This weekend in San Francisco I was asked a couple of questions that sort of surprised me and for one reason or another have lingered in my thoughts.
Someone asked me if I was Native American but they meant north of the US border native. It's a common enough question but still interesting that the border still somehow defines a "regular" Native American person from an indigenous person in Mexico. I recognize no borders when it comes to my pre-European heritage.
Another person after hearing me speak for a few minutes asked me if I was from New Mexico. To this person's ears my heavy vowel and soft consonant accent reminded them of their family from the region. Do Chicanos in the Bay Area not have accents? Anyways, I explained the accents are similar because they are derived from border languages of Spanish and indigenous dialects that moved west with folks from New Mexico, Arizona, Sonora and Chihuahua. But the accent here in Los Angeles is changing. It's only the old-timers that speak like George Lopez nowadays. Glad to hear it's alive and well in the ranchos of New Mexico.
Interesting that both of these simple questions brought up many more issues of identity than I was prepared to deal with at the time. Don't ask me these kinds of things while I'm enjoying a beer, unless you're prepared for a brutally honest response or a long, rambling answer.