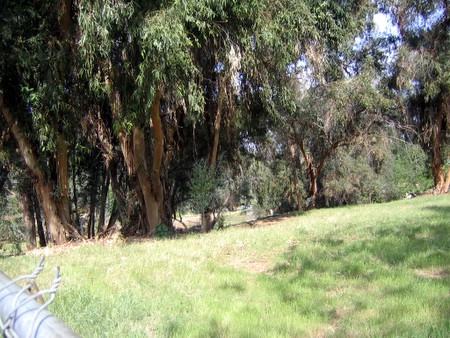 dérive: san francisco to south san gabriel
Last weekend, I participated in a group dérive around San Francisco. We wandered between various SF bars, restaurants and other places. Meeting places were designated every three hours (it was an ambitious 24 hour derive) and in each place a few new people would appear. It was quite fun. Most people naturally walked their way through the city. We being true to our Los Angeles roots jokingly referred to our mobile method of getting around as a derive minus the "e."
Allowing oneself to wander through the city to encounter unexpected experiences is a very attractive way to spend the day. In fact, today I had one such amazing experience. I met the most extraordinary man purely by chance and by merely asking him a simple question. In a cul-de-sac, a block away from my family home on a street I haven't visited since I was in the eighth grade, I discovered a surprising bit of wild space and more impressive, an old man and his backyard Shangri-la.
The cul-de-sac ends on the edge of a small meadow of grasses under fragrant, towering eucalyptus trees. I imagined this is how South San Gabriel might have looked in the days of the old ranchos before the existence of "Lomas" (the local gang made infamous in 'Always Running' by Luis Rodriguez and named for the hills of the area) and before the area was surrounded by beige tract homes. In elementary school, rumors circulated about ghosts haunting the hills. Nearby Garvey Ranch Park at the top of the hill was supposedly the spot where Mexican bandidos were executed (by hanging) for their various crimes. Street names nearby the park like "Ransom" and "Graves" might provide clues to this morbid bit of history.
Next door to this small forest of eucalyptus, lives a friendly old man who has created a beautiful garden made from repurposed and donated materials. He charmed us with humorous stories and his jovial good nature. With not even a second thought or the least bit of mistrust, he showed us around his home, garden and workshop. He reminded me quite a bit of my grandfather who also created a large mosaic garden in his backyard. These are uniquely Mexican gardens filled with ornamental plants, altars and discarded pipes refashioned as trellises and handrails. There will be more on him in another place along with photos.
Unfortunately, these are the last days for the Eucalyptus grove and the meadow. Surveyors were there marking the guides for a new street to be built right over the meadow. All over the hill, McMansions have been sprouting up as the wealth and the hunger for real estate development creeps out from Monterey Park. County officials have been called in to reprimand and fine old-timers for their bohemian ways of living. Gentrification in South San Gabriel, I never thought I'd see the day. Perhaps the ghosts of the bandidos will take their own derive down the hill and reclaim the hill for the dispossessed and forgotten.
"Oh, I lost something in the hills." -Sibylle Baier