Grimes – Vanessa
Lots of thoughts come to my mind about this song. First it sounds like it's a bunch of other songs shoved into one song but "shoved" sounds bad, right? Let's say it's like a collage of other good songs I've posted recently and all the mixing resulted in a little something nice for everyone. There's echoes of Austra (also Canadian), especially in the beats. I particularly like the Felix Da Housecat-ish drop at 2:26, super touch! And it's awesome to hear women using their full range of voice nowadays. Speaking of her voice, I haven't heard such a unique sounding one since Joanna Newsom or is it Pebbles? Okay, so that reference totally dated me, whatever. Interestingly, both indigenous Mexican women and Eastern European Gypsies sing with the same kind of voice.
Grimes aka Carla Boucher is on tour with Lykke Li right now so you'll have a chance to hear her live on May 31 in Los Angeles. Hmmm, you can always hang out in the lobby during Lykke Li's set. Uh, maybe I'll check to see if Grimes is doing a solo show. Sorry but there is just something about Lykke Li's music that is a little too treacly for my tastes. Sure, she makes good pop music and is just the kinda artist that makes KCRW music programmers squirm in their pants but despite trying really hard, I just can't enjoy her music.
And hey, did anyone notice how this video is sorta a more energetic, clothed version of Austra's Beat and Pulse? Is it a Canadian thing? All I know, is that thanks to Witch House/Rape Gaze/Grave Wave and it's all derivatives and spin-offs and denials, there's some really amazing electronic music being made by women.
From Grimes label, Arbutus Records:
Grimes is weird pop influenced by styles such as R&B, Industrial, goth, hip hop and Western medieval organum. She is noted for simple but strong percussion, vocal virtuosity, and addictive melodies.
By the way, I think Grimes is named for the guy everyone hated on The Simpsons.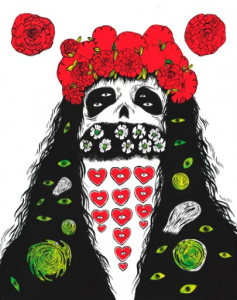 Carla Boucher is also an artist!

Grimes – Crystal Ball
Human League-like beats, melancholy melody and a harp solo, love it!