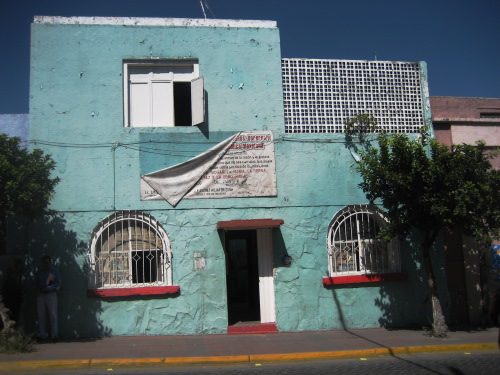 It wasn't difficult to find this house in Guadalajara, the former home of my great-grandmother Sara Ybarra Ramos. She never knew I existed and I knew nothing of her until my father shared some family letters with me earlier this year. But now, I have this connection to her – we have both traversed the same pavement, 70 years separate our footsteps.
(Light posting due to a long needed vacation in Mexico)
November 9, 2009
You might've noticed the picture now is of a different house. I went back to the house to find more information and to ask around if anyone had information on my family and realized I had the wrong house. It was on the same street and the correct number but the street name had changed. Luckily, the correct house was only blocks away and interestingly, near the city courthouse.
My great-grandmother's old house is now rented by a friendly social justice lawyer who recently took over the space and plans to rehabilitate the building as it is in extreme disrepair. Neither he nor the abarrotes across the street knew of any Ybarra families in the area. The lawyer did mention something about chocolate…
Front hallway of the building