The Lindy Hop from the 1941 movie Hellzapoppin'

Al Minns & Leon James doing the Charleston
The human body is capable of the most exquisite movements.

Kiko & S.Deschezeaux – Rock Your Body
I admit it – I have no shame – I liked the Justin Timberlake version too.
This was one of my top listened to albums of 2010. It was released in 2008 but I'm always behind on these things. Below are three tracks from the album.

Deux – Game & Performance
GAME AND PERFORMANCE

You can be someone
If you grow with me
Your simple Song
Is something else
You simulated
your love for me
You can be someone
if you grow with me

You just need
Game and Performance
Your Life is a prospecting Company
Business Man
Yet you kill the Boss
Computers programs shadows in the Night.
More at the Deux website.

Comix – Touche Pas Mon Sexe

Marie Moor – Pretty Day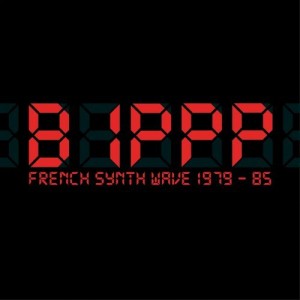 More on French New Wave at this website.
Another favorite from the album, Ruth's Poloroid Roman Photo here.

Visti & Meyland – Stars
Sometimes, most of the time, others are better at articulating what I wish I could.
From the site, Big Stereo:
Visti & Meyland made some waves with their Yes Maam release which featured some huge remixes by Trentemoller and Kasper Bjorke. Now they are back with their latest "Stars." Its quite unique and could be easily mistaken as instrumental because the vocal comes in late at around the 5 and half minute mark. The release is through Bear Funk and includes remixes by The Time and Space Machine, and Rodion & Mammeralla which is my favourite. Another winner from Visti & Meyland.
From the site, Space Dust:
In fact – you could say that if fellow Dane Trentemoeller is the Dark Prince of Denmark – Visti & Meyland – are the Speedo-equipped, sandal-wearing Balearic Disco opposite bringing in the light, the fun, the Disco and the Funk on the arms of a coked-up Grace Jones!
Fofodji – Toi fais gaffe from Ben Le Pat on Vimeo.
(you will have to click the link to view the whole video)
Fofodji-Toi Fais Gaffe from the Lisbon kuduro scene. Check out the lowrider bikes, the contribution from my people!
You might remember awhile back when I was crazy over the Sound of Kuduro by Buraka Som Sistema. This was back when I was eager to share all kinds of global dance trends with you all. I kept thinking, nothing new's come along but more likely, it's just that I hadn't had much time to seek these things out. And then I remembered these kuduro videos I was going to post long ago and forgot.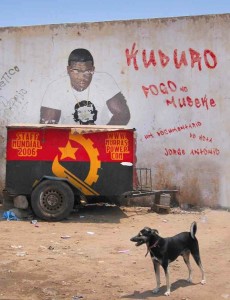 More on Kuduro (from Wikipedia, sorry!):
The roots of kuduro can be traced to the late 1980s when producers in Luanda, Angola started mixing African percussion samples with simple calypso and soca rhythms to create a style of music then known as "batida". European and American electronic music had begun appearing in the market, which attracted Angolan musicians and inspired them to incorporate their own musical styles.[2] An Angolan MC, Sebem, began toasting over this and is credited with starting the genre.[3]

The name itself is a word with a specific meaning to location in the Kimbundu language, which is native to the northern portion of Angola. It has a double meaning in that it also translates to "hard ass" or "stiff bottom" in Portuguese, which is the official language of Angola. Kuduro dancing is similar to Dancehall dancing of Jamaica. It is mostly influenced by zouk, soca, and rara music genres. It also combines Western house and techno with traditional Angolan kilapanga and semba music.[4] As Vivian Host points out in her article, despite the common assumption that "world music" from non-Western countries holds no commonalities with Western modern music, Angolan kuduro does contain "elements in common with punk, deep tribal house, and even Daft Punk."[5] It is thus the case that cultural boundaries and limitations within the musical spectrum are constantly shifting and being redefined. And though Angolan kuduro reflects an understanding and, further, an interpretation of Western musical forms, the world music category that it fits under tends to reject the idea of Western musical imperialism.[5] The larger idea here is that advancements in technology and communications and the thrust of music through an electronic medium have made transcending cultural and sonic musical structures possible. According to Blentwell Podcasts, kuduro is a "mixture of house, hip-hop, and ragga elements,"[6] which illustrates how this is at once an Angolan-local and global music. Indeed, this "musical cross-pollination"[5], as Vivian Host calls it, represents a local appropriation of global musical forms, such that the blending of different musics creates the music of a "new world."

Costileta – Xiriri
This is a popular kuduro tune from Angola. The dancing is impressive!
Kuduro is also extremely popular in France as evidenced by this compilation clip of French youth under the kuduro spell. The dancing gets particularly good around 1:28.
Read more here: Kuduro: Techno from Angola to the World
Xeroz (or Zerox), Polaroids, copy and pasting…songs about mundane tasks and objects made all the more interesting by a bit of guitar and an electronic beat or two.

Adam & The Ants – Zerøx (1979)
This was a previously unreleased video, towards the end there are some strange outakes. Perhaps it was a bad copy? har har. Early Adam Ant sounds fresher than the later pop-ier, pirate themed stuff. Another favorite is his take on bondage, Whip in My Valise.

Ruth – Polaroid Roman Photo (Synthwave France, 1985)
From The Boomar Blog:
Ruth was an 80′s synth/artsy new wave group from France consisting of Thiery Müller, Phillippe Doray and Ruth Ellyeri. From what I can gather, they only released one full-length LP, also titled Polaroid/Roman/Photo on the ultra-obscure Paris Album records. The record was out of print for quite some time, but has since been reissued by UK label Infrastition Records

Plastic Operator – Folder (2005)

As someone who does a lot of blogging, I think this tune could be a potential theme song. Always copying and pasting, editing, cropping…come to think of it, isn't love the same?
From the Plastic Operator website:
Plastic Operator are the perfect pop group for our times. Internationally minded, technically savvy and most importantly blessed with the ability to sculpt sublimely soulful pop moments from raw digital clay, Plastic Operator may exist in a parallel space to the tired pop pap in the Top 10, but what a wonderful space it is.

Elli et Jacno – 'Anne cherchait l'amour' 1979
Dog hair causing tears to form, rooms full of pedigreed blue bloods, cycles that have doomed many to defeat, greenery succumbing to invading hordes, racist dogma, austerity measures and insecurity. The tales of high summer.
This is why Mexico beat France in their last World Cup game. All the talented French kids (with berets!) are busy dancing tecktonik in their parent's basements instead of paying attention to football.

Sofi Marinova – Lubovni Dumi (Love words)
I've discussed Chalga a few times on this blog. It's one of my musical guilty pleasures. The music is crass, perverted and has become the gooey pop stuff of Bulgarian airwaves. At one time though, Chlaga was known as the Gypsy peoples' music, traditional with a bit of modern kick. Lots of the newer Chalga is smashed together with American soul sounding runs, reggaeton and hip-hop. And like the genres it emulates, it's all covered with that characteristic over-produced glossy sheen that somebody, somewhere finds appealing.
In the quest for new sounds to mix with, this Chalga song has moved into a musical sphere that one can proudly listen to with the windows down in the car. It's a stripped down, old skool bumpin' beat layered over with a Greek folk tune -Tha Spaso Koupes- plaintively sung by one of Bulgaria's top pop artists, Sofi Marinova. Add to that some real Gypsy sounding Balkan brass and you got my choice for video of the week!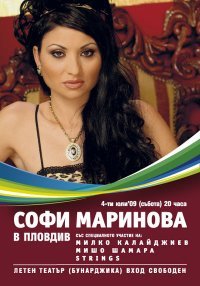 Eleftheria Arvanitaki – Tha Spaso Koupes
The original Tha Spaso Koupes
BBC's take on Chalga.
An American in Bulgaria discusses Chalga clubs.

Ramba Ho from the Bollywood movie Armaan (1981)

At this point, if you are still a reader of this blog, you have to know that my music tastes are sometimes not enviable. I put up any darn thing I like, I've always tried not to follow genres or rules. My hope is that there is at least one other person in the world that likes these songs and hopefully, that person would like to be my friend. And then me and that friend can have a dance party and jump around singing "Ramba Ho!"
Hindi+Secret Disco=Song of the Day!
« Previous Page
—
Next Page »